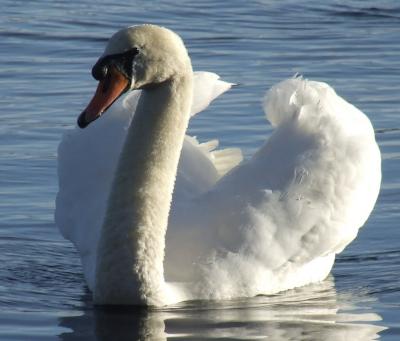 It is amazing how my emotions change over the course of a few hours. Even though I swam the night before, I had a swim scheduled for last night, so wanted to complete it. I spent the day at work looking forward to it, but by the time I got home, I was tired and less sure. By the time I got to the lake, the wind had picked up, and standing around was cold. I almost went home. I waded into the water (without my wetsuit) and the water felt cold. Again, I almost went home. I stood, thigh deep in the water for a good 3 or 4 min. Then finally said to myself, "What are you waiting for." With a laugh, I answered, "August, when the water warms up" and plunged into the water.
The waves were strong from the wind. And blowing, as they often do, towards the north west. So I knew my standard out-and-back swim was going to be much harder on the way back. I figured I'd take it easy for the out, and go short, then turn and hammer into the waves and wind.
Again with my prescription goggles, I could see EVERYTHING. One of the things that this new prescription gives me is much better depth perception (to the point that one rider in my car commented that my driving was off the first week with the new glasses). Everything looks like a 3-D movie to me-- hyper clear and deep. That included the underwater views. I felt like I was in a 3-D movie of space, with things floating in front of my face. Though there typcially isn't milfoil in space.
At one point, I thought I saw a dead fish floating near me in the water. I swam away as fast as I could, totally skeeved out. Then, as I paddled further, I realized that "fish" was most likely the reflection of my hands below the water on the surface of the water. Nothing like being creeped out by your own stroke!
I was going to do the full mile swim, but with the waves at my back, started to worry about exhaustion on the swim back. So I turned around a few yards early. The swim back was harder. But I got into a great rhythm and just swam. It felt smooth and though it was hard work, it was easy to keep going.
When I finished I took a quick shower in the outdoor shower at the beach. I realized how, after a hard workout like that, I am totally comfortable in my skin. There is no sense of embarrassment or body consciousness about wearing just a bathing suit in public. Instead of fretting about body hair or my tummy size, I felt strong, powerful, and graceful. It was a swan swim.