Last month I had a mole removed from my shin. Turns out the biopsy was "pre cancerous". I've always had pale skin and burned easily, but this has made me want to up my game for sun protection. Enter the rash guard for swimming.
I purchased this top last summer from
Lands End
. They claim spf 50 sun protection in and out of the water. I fist purchased this one in my normal street clothing size (and in blue, which they don't seem to have anymore).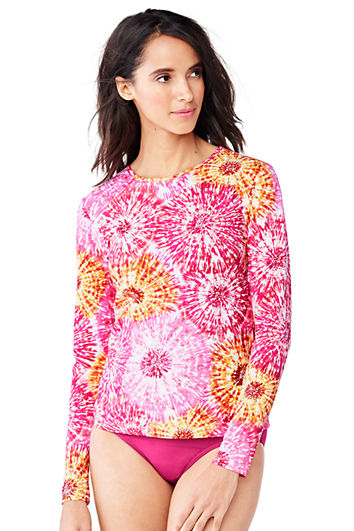 I love the feel and the drape. But it was too big to wear in the water, it flapped around a lot during real swimming. So then I got the yellow one, sized down to be tight (and I got yellow for visibility in the water). The bottom line is it serves its purpose.
I like the top best when I wear the
swim safety buoy
over it. The belt helps to hold it in place, otherwise it rides up a touch. For the most part the top is unnoticeable in the water, which is what I want. It stays a bit cold when wet and out of the water, so I need to remove it quickly, though it dries quickly on the line. I've also had some moderate chafing issues with it under my arms. Nothing a little body glide can't fix.
In the long run, I'm glad I have the shirt. It means I don't have to worry about the sun on my back, which is, of course, the hardest place to spread sunscreen yourself. I'll wear this happily all summer, and the blue one for summer festivals when I want to be cool and have sun protection.